Jet ski Marrakech activity half day overview:
Morocco Tours Operator provides Jet ski Marrakech activity, water skiing, banana, wake boarding, and more on Lake Lalla Takerkoust, 30 minutes from Marrakech, in a beautiful setting: the Atlas Mountains. Otherwise, discover the Jet Ski. Enjoy Jet Skiing and other water activities in the beautiful scenery at the base of the High Atlas' snow-capped mountains.
Jet ski in Marrakech half day highlights:
Stroll of a quarter hour jet ski on the lake.
Transfer is included (round trip).
A Quarter-Hour Jet Ski ride to the lake.
Nautical Equipment of good brand.
Leaving your residence in Marrakesh everyday of the week from 08:00 am to 16:00.
Things to do in Marrakech jet ski half day program information:
There are several beautiful hiking, quad, and jet ski paths in and around Lalla Takerkoust. Alongside the lake, there are several public and private beaches where people may go for picnics, relaxation, mingling, swimming, and sunbathing. Kayaks and jet skis may be rented by water sport enthusiasts to explore the lake. A Yamaha quad and all required gear, including goggles, a hood, a helmet, and a raincoat, are also given and in great condition. The pace and route will be adjusted to the ability of the participants by your knowledgeable and attentive guide during the entire day.
On the Lalla Takerkoust dam, jet ski Marrakech activity and swimming are not permitted. To learn more, kindly contact the business.
Rand'atlas provides all types of water sports, including water skiing, jet skiing, and wakeboarding, and is situated on the Lalla Takarkoust Dam, about 20 minutes from Marrakech.
Included:
Lunch
Recipe sheet.
Local English-speaking guide.
Bottled water.
Not Included:
Hotel pickup and drop-off.
Gratuities (optional).
Jet ski Morocco in Marrakech for half day on the map:
Share This Morocco Activity With Your Friends
Here Are Some Morocco Related Activities
Quad biking Marrakech activity overview: Experience a revitalizing cup of Moroccan tea with a local family to learn about life outside of the bustling metropolis. After a classic tagine meal
3 Days Tour from Marrakech to Merzouga - Book Now & Save!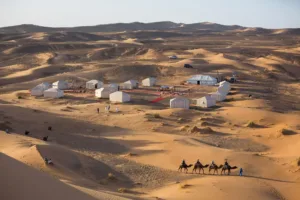 Book 3 days tour from Marrakech to Merzouga, through that trip we will discover some Moroccan best-nown places, contact us now!
Product SKU: MTO-102
Product Brand: Morocco Tours Operator
Product Currency: EUR