Chez Ali fantasia show and dinner overview:
Chez Ali Fantasia Show and Dinner in Marrakech gives you a theatrical meal in Berber tents with dancers, acrobats, horse riders, pyrotechnics, and folk music in a mesmerizing setting reminiscent of the Arabian Nights. The incredibly lavish supper includes a BBQ and other traditional dishes. As the food is delivered to your table, musicians and dancers sometimes stroll by. Following this delicious supper, the arena is taken over by the magnificent Fantasia performance.
Chez Ali dinner & horsemen show from Marrakech highlights:
See the thrilling horsemen of the Chez Ali Fantasia show.
Enjoy a typical Moroccan menu in caidal tents.
Hear stories of Berber folklore.
See acrobats and daredevil horse stunts.
Look out for flying carpets!
Fantasia dinner show & Moroccan folklore Chez Ali program information:
Chez Ali fantasia show and dinner Activity begins on the outskirts of Marrakech, the Chez Ali complex offers an incredible evening of entertainment. Enjoy a 5-course lunch while taking in the sights and sounds of Moroccan musicians and dancers while dining under caidal tents.
The amazing thrills of the Chez Ali complex in the Palmerie are substituted for the delights of Marrakech on this 4-hour dinner trip. Acrobats, belly dancers, fireworks, and horseback stunts will all be performed throughout the evening.
When you arrive, Berber tribes will welcome you and show you where to sit in caidal tents. Get comfortable and get ready to be amazed! The remarkable night of entertainment is based on Moroccan folklore and stories, which are enchanting and magnificent.
While you dine, the Zayane, Kelaa M'Gouna, and Guedra, among other Moroccan historical soldiers, will walk by your table.
Watch diverse song and dance performances, risky horseback feats, exhilarating pyrotechnics, thrilling parades, death-defying acrobats, and exotic belly dancers while you indulge in a five-course dinner. You could even spot a few flying carpets!
The thrilling Fantasia display, which recreates horsemen's war rituals and ferocious clashes between Berber and desert knights, serves as the program's grand climax. Enjoy the excitement of watching massive formations of horses and horsemen in period attire dash across the arena to the sounds of gunpowder explosions, our Morocco Tours Operator helps you with Chez Ali Fantasia Show and Dinner activity.
Moroccan Harira, chicken tagine with lemon, beef on skewers or in a tagine with prunes, couscous with seven vegetables, seasonal fruit, mint tea, and Moroccan pastries.

Are All on The Menu.
Included:
Transfers
Dinner.
Not Included:
Drinks.
Tips.
Fantasia show Marrakech Chez Ali on the map:
Share This Morocco Activity With Your Friends
Here Are Some Morocco Related Activities
Jet ski Marrakech activity half day overview: Morocco Tours Operator provides Jet ski Marrakech activity, water skiing, banana, wake boarding, and more on Lake Lalla Takerkoust, 30 minutes from Marrakech,
3 Days Tour from Marrakech to Merzouga - Book Now & Save!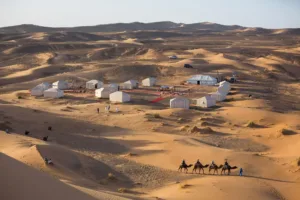 Book 3 days tour from Marrakech to Merzouga, through that trip we will discover some Moroccan best-nown places, contact us now!
Product SKU: MTO-102
Product Brand: Morocco Tours Operator
Product Currency: EUR