Hot air balloon ride in Marrakech overview:
The company Morocco Tours Operator offers you hot air balloon ride in Marrakech and explore it. You have the option of boarding one of Morocco Ballooning's distinctive balconies, from which you can overlook the Atlas Mountains and the surrounding region of Marrakech. Before having mint tea and fresh bread in a traditional rural house, take in breathtaking views of Marrakech and the surrounding countryside from a new perspective.
Hot air balloon rides Marrakech highlights:
Explore Marrakech from the sky and enjoy a sunrise over the atlas mountains
Enjoy the landscapes and berber villages over the sky
Discover the hidden villages and the big palm grove of Marrakech
Enjoy a morning sunrise with a Moroccan breakfast
Enjoy a hot-air balloon trip over the Palm Grove of Marrakesh on this exciting tour
Have mint tea and fresh baked bread with a local Berber family after the flight
Hot air balloon tour Marrakech program information:
Discover Marrakech in this exclusive (hot air balloon ride in Marrakech), private adventure that lets you see the city from the air! During the almost one-hour flight above the ancient city of Marrakech, take in the breath-taking sights of the High Atlas Mountains in the distance. Watch the dawn over the mountains as it changes the atlas' color. Due to the excellent equipment and ideal circumstances, it is a special and secure experience:
Make smart plans and explore Marrakech from the air! A flight of about an hour passed over the millennia-old city of Marrakech with the High Atlas Mountains in the distance. a distinctive and secure experience made possible by our flawless equipment.
early in the morning the departure of our hot air balloon ride in Marrakech. In order to get you to the launch point in the Jbilets hills, we pick you up from your accommodation. Enjoy a meamen after your journey in a 4 x 4 and visit a nearby town following your flight of around 1,000 meters in altitude.
a soak in Berber culture and friendliness. You can expect a special experience because to our in-depth knowledge of the area, the high caliber of our gear, and the expertise of our guides. accessible to children's families
Included:
We pick you up and bring you back to your hotel Professional guides.
Transfer in 4×4 ride to remote villages.
Tea and traditional pancakes after balloon flight.
Certificate of theft.
Liability insurance.
Local taxes.
Bottled water.
Not Included:
Food.
Drinks.
Tips.
Fees to historical monuments.
Personal expenses.
Sunrise hot air balloon ride Marrakech on the map:
Share This Morocco Activity With Your Friends
Here Are Some Morocco Related Activities
Jet ski Marrakech activity half day overview: Morocco Tours Operator provides Jet ski Marrakech activity, water skiing, banana, wake boarding, and more on Lake Lalla Takerkoust, 30 minutes from Marrakech,
3 Days Tour from Marrakech to Merzouga - Book Now & Save!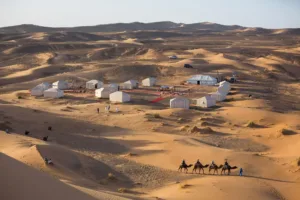 Book 3 days tour from Marrakech to Merzouga, through that trip we will discover some Moroccan best-nown places, contact us now!
Product SKU: MTO-102
Product Brand: Morocco Tours Operator
Product Currency: EUR