Cooking class in Marrakech activity overview:
Take a half-day traditional Cooking Class in Marrakech Activity to learn how to make Tajines, Couscous, Pastilla, and other dishes that reflect Moroccan culture. All ages and skill levels—from adults to kids—are catered to in this program.
Cooking class in Marrakech half day highlights:
Cook and eat authentic Moroccan Tajine
Learn some Arabic and shop for fresh ingredients from a local open-air market called a souq
Make a classic Moroccan Tajine Feast on your culinary creations in a peaceful riad setting
Small-group tour limited to 12 people ensures more personalized attention from your guide
Private cooking class Marrakech activity program information:
Discover a fresh appreciation for Moroccan food during this 4-hour, small-group cooking session that includes market shopping, making a traditional dish, and lunch. Learn a few Arabic words and phrases from your tour guide before going ingredient shopping at the souq. Make a classic Moroccan cuisine like couscous or "tagine" next (a meat and vegetable dish named after the pot used for cooking). Finish off by having lunch with your classmates in the courtyard of a "riad," a typical Moroccan house. A recipe sheet is also included in this 12-person small-group session so you can make the dish at home.
In this small-group cooking class in Marrakech activity, you will get a taste of the rich tastes and culture of Morocco. You will get the opportunity to shop for goods in the market, prepare a traditional meal, and eat the results of your labors for lunch inside a typical riad. The ideal opportunity for cultural immersion and a chance to experience the mouthwatering delicacies that define this North African nation's culinary legacy can be found on this foodie trip.
Meet your group and guide at 9am at the Djemaa El Fna, Marrakech's major square, to begin your excursion. Back at a riad, follow your guide through the narrow city alleyways to begin your culinary adventure. Learn a few Arabic terms that you may use when haggling at the neighborhood souq for food items including meat, veggies, and, most importantly, spices. You'll be on the lookout for traditional Moroccan ingredients throughout your shopping excursion, such as mint and olives from Meknes, saffron from Taliouine, and citrus from Fez.
Return to your riad after finishing your shopping to start your hands-on Cooking Class in Marrakech Activity. Prepare a classic Moroccan cuisine like tagine or the equivalent tangia (couscous with vegetables and meat), pastila (an apple-based dessert), or harira according to your guide's directions (a traditional North African soup served with dates).
After that, tuck into your freshly made lunch that is being served in your riad's lovely patio. Additionally, a recipe sheet will be given to you at the end of the session so that you may recreate the dish once you get home (and impress family and friends).
Returning to the city's Djemaa El Fna after your culinary adventure will allow you to continue your day by shopping for spices and taking in the kaleidoscope of sights, sounds, and fragrances that make up this special city, after our Cooking class in Marrakech activity we drive back to your acommodation.
Included:
Lunch
Recipe sheet.
Local English-speaking guide.
Bottled water.
Not Included:
Hotel pickup and drop-off.
Gratuities (optional).
Things to do in Marrakech cooking class activity on the map:
Share This Morocco Activity With Your Friends
Here Are Some Morocco Related Activities
Hot air balloon ride in Marrakech overview: The company Morocco Tours Operator offers you hot air balloon ride in Marrakech and explore it. You have the option of boarding one
3 Days Tour from Marrakech to Merzouga - Book Now & Save!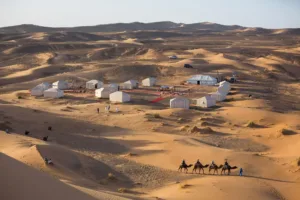 Book 3 days tour from Marrakech to Merzouga, through that trip we will discover some Moroccan best-nown places, contact us now!
Product SKU: MTO-102
Product Brand: Morocco Tours Operator
Product Currency: EUR